We were fortunate enough to be able to put together a highly skilled all female team.
All - skippers, alpinists and visual artist.
Embracing the strength and challenges of an all female team created a unique experience.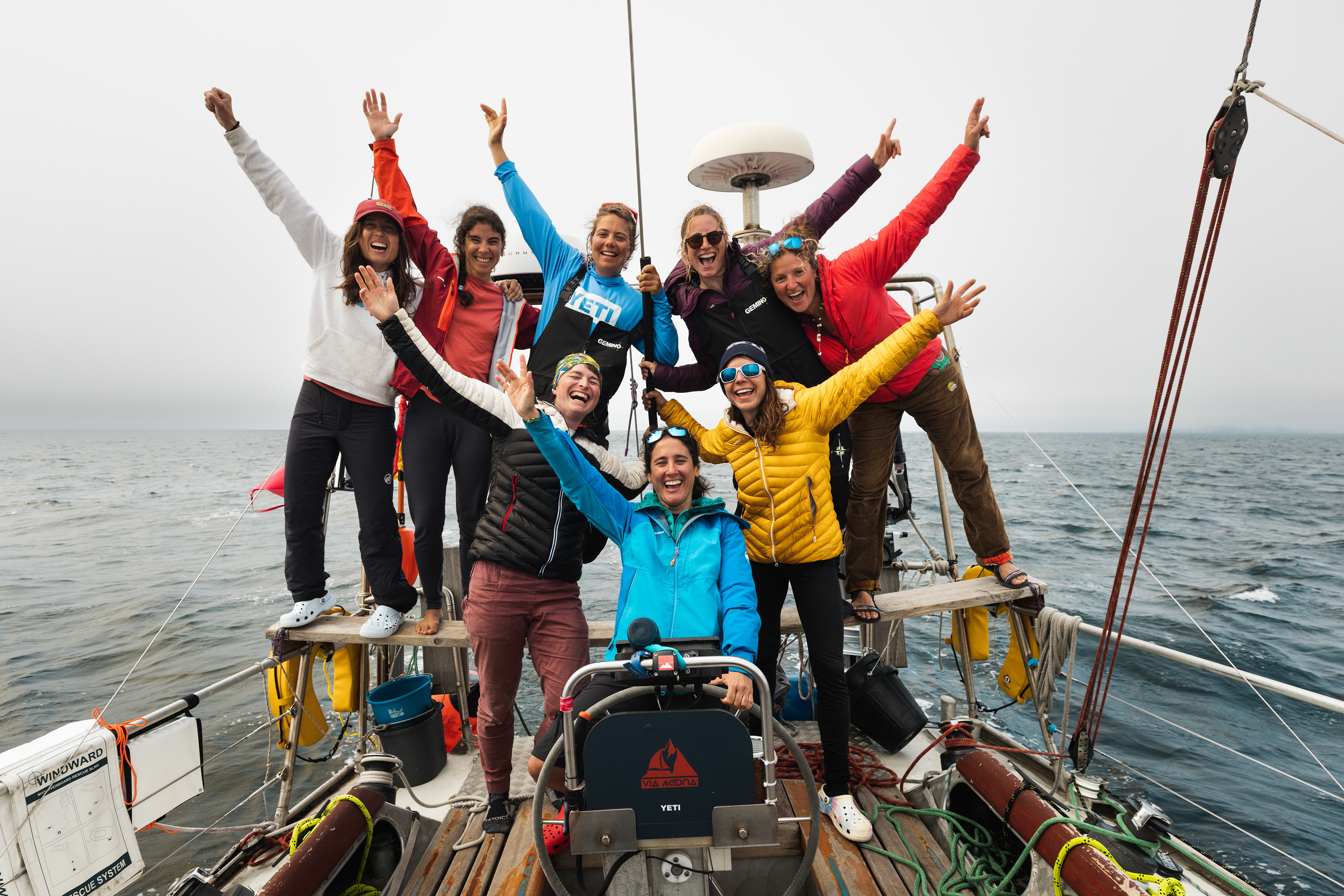 I am an Alpinist, climber, IFMGA mountain guide and member of the Mammut Pro Team.
I feel comfortable in rock, ice and mixed terrain. At the age of 16 I nearly stand at the top of Aconcagua, the highest mountain of South America. From 2011-2013 I was member of the first female expedition team of the German Alpine Club.

At the age of 24 I did the first all female free ascent of Cerro Torre together with Christina Huber.
In addition I climbed many demanding routes in the Alps and did multiple first ascents and expeditions around the globe that brought me to Patagonia (8 times), Antarctica, the Indian
Himalaya (5 expeditions), Iran, Armenia, Pakistan and Alaska among others. I also climbed several bigwalls in the United States and Europe.
In 2018 I participated on a sailing expedition to cross from Ushuiaia to Antartica passing the Drake passage and the Cap Horn to ski on the Antarctic Peninsula.
The environment is the base for my passion and it's my interest to preserve and protect it. For this reason I did a degree in environmental science on the university Lausanne.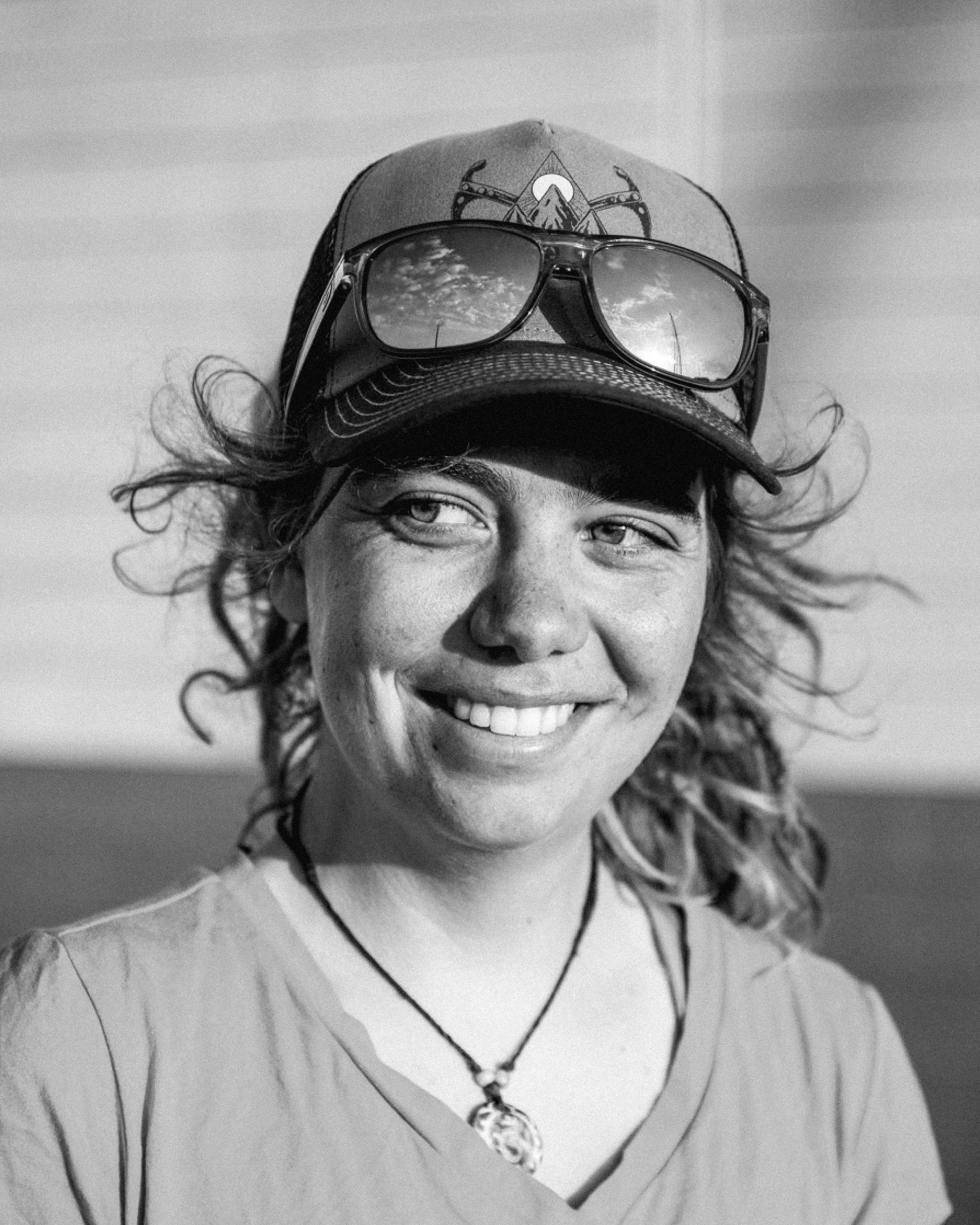 I am an engineer and professional skipper. Originally from the Canary Islands, I grew up surrounded by the Ocean.
I started my sailing career at Glénans sailing center and worked there as a sailing instructor, sailing around France, England and Ireland.

Later on I participated at regattas and ocean races like the "Mini-Transat 2017", a solo handed race across the Atlantic with no assistance in a 6.50m sailing boat. As skipper and expedition leader I lead two sailing/climbing expeditions to the west coast of Greenland and to Norway. 
I discovered the arctic environment which fascinates me and which I respect deeply.
 
Furthermore I am the head of Ocean Peak, an association that takes sailing troubled youth. In this project I can combine sailing with a social component and share my passion for the sea with youth from disadvantaged backgrounds. Throughout my different experiences I have learned how to combine my technical, social and communication skills to develop professional projects.
I am climber fascinated by traditional climbing, amateur alpinist and climbing instructor.
It is a nomadic childhood close to nature that gave me the passion for the mountains and wilderness. First speleologist in spanish caves, I started climbing quite late at the age of 26 in the Pyrenees.
Since then I recovered the lost time and went to climb the great lost walls of South Africa, the amazing peaks of Patagonia or the unexplored cracks of Bolivia.
Life has made that often, these strong experiences, I live them with women. Committed to a vision of practice respectful of our fragile nature, I organize courses and climbing events related to environmental education. I am also involved in the defence of the profession as President of the National Union of Climbing and Canyon Professionals.
From 2015-2018 I was part of the Pyrenean Women's Mountaineering Team and now I've become an instructor of a Women's Trad Climbing Team in France.
Maria Sol Massera
I started sailing at 11 years old in the cold and windy seas in Peninsula Valdes, Patagonia Argentina. There's where my passion for sailing and naval architecture began, between whales and rough seas. The naval architecture brought me to France, where I had the chance to find my place on a renowned yacht design office.
Several years I was racing regattas on dinghies and cruiser-racers, long passages in south america (Buenos Aires - Punta del Este/ Puerto Madryn- Mar del Plata/ Mar del Plata - Buenos Aires), I spend two summers as crewhand (on a 23 m sailing boat and a 50 feet) in Croatia and Italy. 
Several summers i worked as an optimist coach in Patagonia and four years as sailing instructor in Buenos Aires. I am also owner of a plywood sailing boat that I have completely restored with my own hands, It took me a year and a half, and I learned a lot from this.
I am always curious about technical issues onboard, and I can be very helpful on a technical point of view, I perhaps find the issue and might even fix it!
Caro Dehais

I studied engineering, then I worked several years in the fields of energy and environment, in France and in NGOs abroad. Finally I turned to traditional carpentry. Originally from Normandy, I spent my childhood summers in Brittany, on a 4.70m dinghy. That's how I discovered my passion for sailing and the ocean!

I sailed in France, England, Ireland, Scotland and Iceland. Additional to my skills as a sailor, I am particularly good (and appreciated !) in cooking. My specialty: making chocolate breads during my night shifts, which will make everyone's awakening even happier!

In love with nature, the sea and the mountains, I also practice ski touring, climbing and paragliding. Curious about the world,I've been living in intricate places, such as Afghanistan,  it's the kind of experience that shaped my capacity for adaptation. 
My technical skills as a carpenter and engineer are always helpful on expeditions to remote regions, where you have to rely on yourself.

Capucine Cotteaux


As passionate climber, I discovered climbing at the age of 20 and headed for Montpellier to fully live my passion. Attracted by the beautiful steep walls of granite or limestone lost in nature and also in the constant search for new projects of sporting routes to share with my roped friends, it is in cliffs that I spend most of my time! Today, I want to combine my passion and my social work in order to allow the public "far away" from nature to have access to this universe linked to verticality. It's also about making meaningful trips. Sharing my skills, transmitting, exchanging, learning and living rich human experiences, because together, we go further! My passion has led me to travel to the United States (Utah, California), Turkey, Czech Republic, Croatia, Italy, Spain and more.
Hopefully soon to Greenland!
Some of my climbing Highlights:
Sport routes: jolie fleur (verdon) 8b, ramirole (verdon) 8a+, pic up (saint guilhem le desert,34) 8b
Alpine routes: les fous de l'aiguille (aiguille du midi) 7b, la part des anges (aiguilles d'argentière) 7b+, ciao vinc (aiguilles d'argentière) 7b
Alix Jaekel
I´m a passionate sailmaker and a keen supporter of women in sailing.  
I initially started working as a communications executive in the video games industry, after graduating from Sciences Po and La Sorbonne in Paris. 
I discovered sailing when I moved to the UK… and it was soon the end of my office life! I learnt crewing on racing boats in Brighton and doing regattas in the Solent, the international sailing hub, where I participated in iconic RORC races such as Cowes Week or Round the Island. One year later I was buying a boat, quitting my job and sailing South! 
It led me to the shores of La Rochelle, where I converted my love for sailing and manual work into a passion job - sailmaking. I now repair and make brand new sails for all kinds of boats, from racers to blue water cruisers. Whenever I'm not in the sail loft you'll find me on the water. I'm always looking for challenges that will make me become a kick ass sailor and a master sailmaker. What could be more challenging than sailing high latitudes?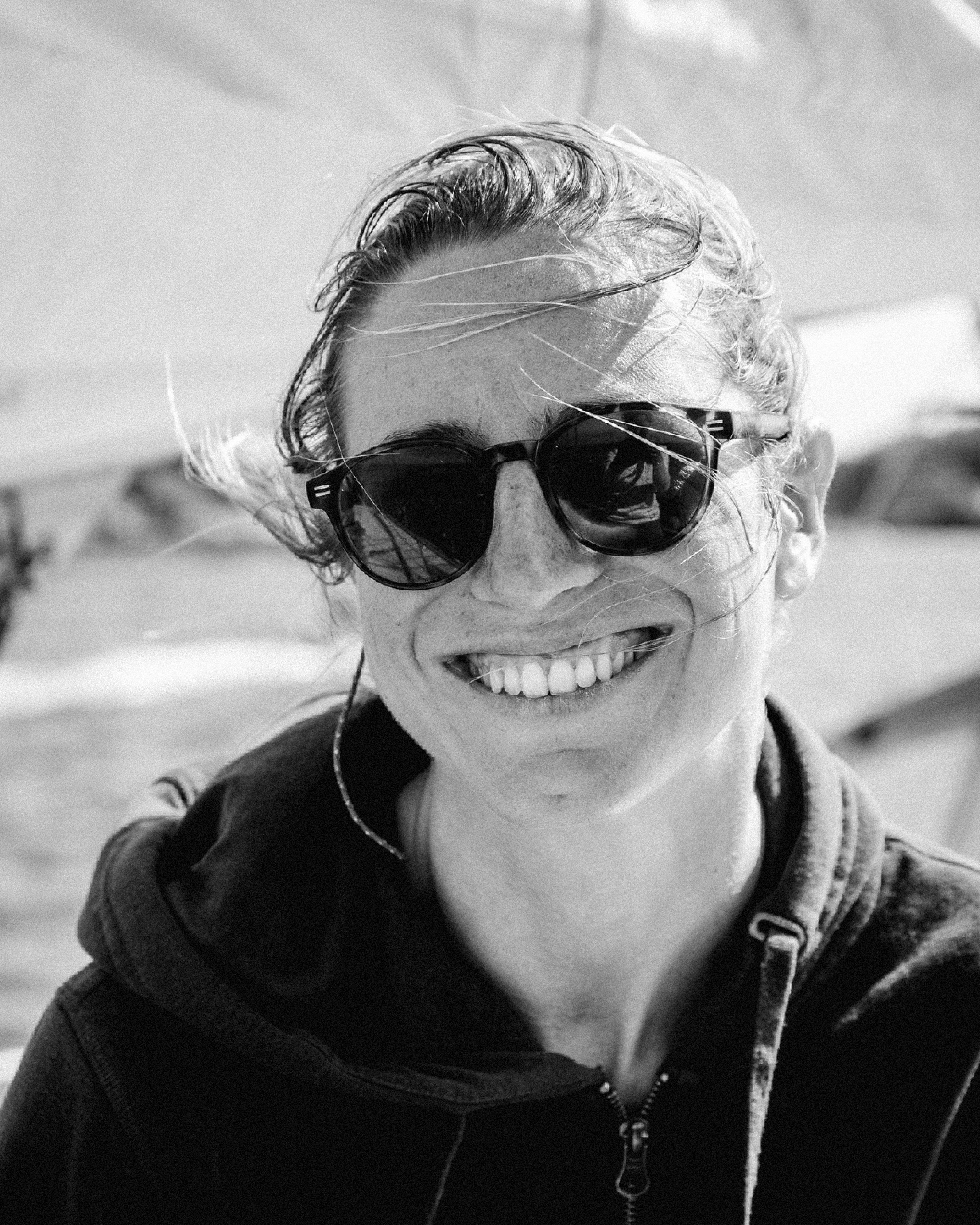 Ramona Waldner
I believe in adventures where others merely see stones, sand or dark water. My intense wish to breath in the world and to detect what is there to be detected goes hand in hand with a tremendous amount of respect for nature and all its beings. While in many cases everyone and everything in photography is turnt into an object, I want to emphasise the subject and embrace its obstinacy as well as its (inner) beauty.
My journeys and expeditions for books and magazines in the field of wildlife, sport and documentary photography brought me to many places around the world like the tibetian Plateau, the Cambodian jungles, remote islands in Alaska, Patagonia, Bhutan, Ethiopia and many more.
Every project is a new task for which I am always passionate and not afraid of challenges. I always wish to catch what is hidden behind a face or behind the ocean, something that only waits and allows me to tell its story.
As an enthusiastic mountaineer, I have photographed several mountaineering projects in winter and summer for the outdoor industry.
www.ramonawaldner.com
instagramm